Events
No events at the moment
Our souvenirs
The aim of our non-profit association is to support the Deutsche Technikmuseum through human resources, the organization of events, the procurement of exhibits for the museum and the solicitation of donations. You also support our work for the Museum of Technology by buying our souvenirs:

Coins from all over the world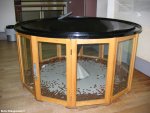 Through our donation boxes in the Deutsches Technikmuseum, we receive a large number of coins from all over the world. We offer both the collector the opportunity to purchase special coinage for a donation and the traveler to receive a small pocket money in the respective local currency from us in return for a donation.
more...